.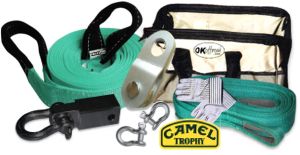 (click image for large view)
The Camel Trophy Recovery Kit contains:

4" x 30' snatch strap.


3" x 6' double-ply tree saver.


XD snatch block.


Steel receiver shackle bracket (powdercoated).


7/8" D-Ring shackles (2).


Suede cowhide work gloves with protective cuffs.


18" wide-mouth Gear Bag, heavy-duty nylon


zipper, outer pockets, & hard fiber floor.


Camel Trophy decal.
---
The Camel Trophy Recovery Kit has a retail value of over $300.00.
.
Camel Trophy Recovery Kit
---
This kit was a special request from a U.S. Team Camel Trophy driver who now does special training for the Department of Defense. He is still using his Camel Trophy vehicle for off-road driver training today.

We're happy to be able to support his activities with reliable products that stand up to the rigors of off-road abuse. We duly name this kit in honor of his efforts past and present.
.
---
.

U.S. SHIPMENTS (CONTINENTAL U.S. ONLY)

Camel Trophy Recovery Kit
Shipping
.
$249.95
$20.00 *
.
.

---

* Includes sales tax for shipments within Oklahoma

---
.
.