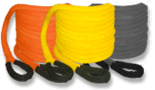 4x4 PolyGuard Kinetic Ropes


Now with our exclusive abrasion resistant 'PolyGuard' coating, the OKOR kinetic recovery rope is probably the most technically advanced recovery tool in the off-road world.
.


Mega Kinetic Ropes


For recovery above & beyond your standard off-road recovery. Our Mega Kinetic Recovery Ropes are used by U.S. Fire Departments & our Armed Forces.