Recovery Gear at OKoffroad.com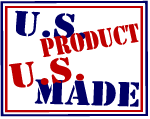 Definition: kinetic energy - The energy possessed by a system or object as a result of its motion. The kinetic energy of objects with mass is dependent upon the velocity and mass of the object, and is equal to the product of half the mass times the square of the speed.
Military Kinetic Recovery Rope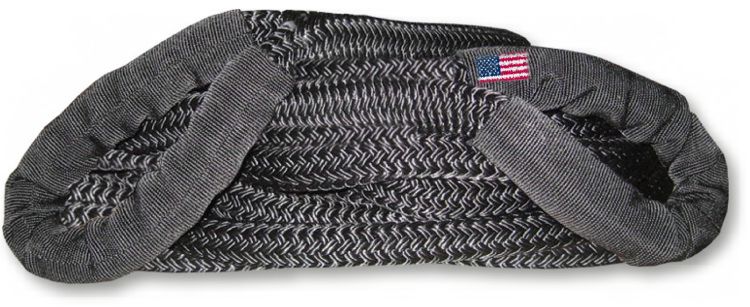 (click image for large view)



The OKOR kinetic recovery rope is probably the most technically advanced recovery tool in the off-road world. Using the principles of kinetic energy for maximum effect, this military-grade kinetic recovery rope will stretch and safely pull a vehicle to safety. For heavy-duty tugging recovery of stuck vehicles in mud, snow, or sand.



1" diameter x 30'- 33,000 lbs MBS.


Rated for mid to full-size jeeps & 4x4s.


1-1/8" diameter x 30'- 42,000 lbs MBS.


Rated for full-size trucks.


1-1/4" diameter x 30'- 52,000 lbs MBS.


Rated for all full-size rigs+.


Military grade.


Chafe guarded loops on each end.


High Strength & High stretch.


Made from Nylon Double Braid.


Professionally spliced & lock-stitched.


U.S. Product, U.S. Made.



---
---
Need something bigger?
>> Mega Kinetic Ropes <<
For recovery above & beyond!
---
---
U.S. SHIPMENTS (CONTINENTAL U.S.)



1" x 30'
33,000 lbs MBS




1-1/8" x 30'
42,000 lb MBS




1-1/4" x 30'
52,000 lb MBS





OKOR original American-made Kinetic Recovery Ropes. OKOR's superior recovery products including our kinetic ropes are professionally assembled in the United States to exacting standards. Our products are used by government and military entities including our Armed Forces, as well as international Search & Rescue organizations.
Kinetic Recovery Rope & Kit Bag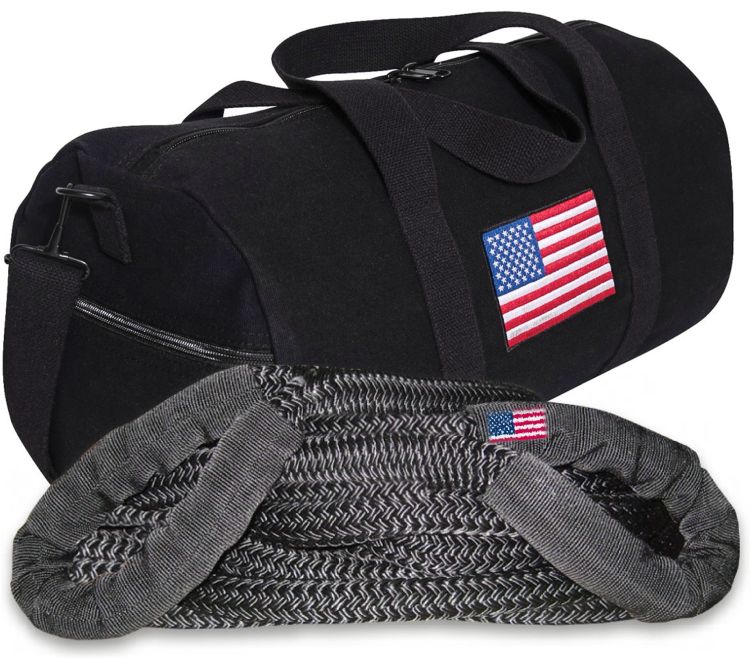 (click image for large view)



Protect your military-grade Kinetic Recovery Rope by storing it in our heavy-duty kit bag. Don't just throw that Kinetic Rope into the back! Store it carefully, and it will be there for you when you need it.
Holds your other recovery gear too.



Kit Bag features a 3" X 5" embroidered Red, White, & Blue U.S. Flag.


The American Flag Kit Bag measures 19" X 9".


Double Zipper allows for quick and easy access to your Gear from either side.


22oz unwashed Heavyweight Cotton Canvas to withstand the weight of your Gear.


The Zipper End Pocket (6 " X 9-½") Provides a perfect amount of storage for your keys, phone, etc.


Detachable and Adjustable Shoulder Strap, as well as Durable Dual Carry Handles.


Easily Store and remove the Kit Bag from a pick-up bed, or the back of a 4x4 with the Grab End Handle.
U.S. SHIPMENTS (CONTINENTAL U.S.)
---
---
CHECK OUT OUR KINETIC
BRIDLE/EXTENSION ROPES!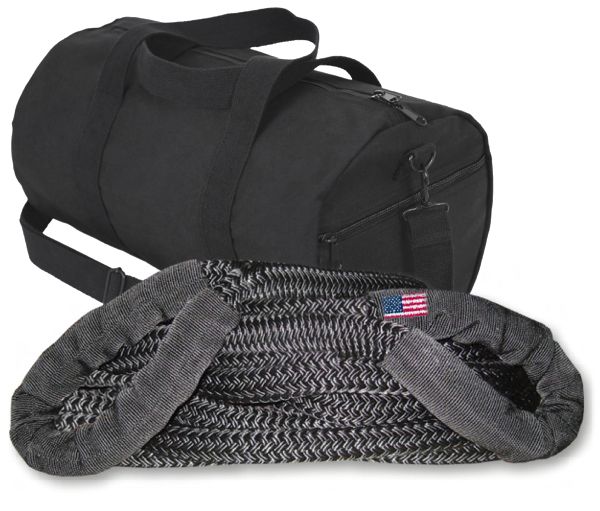 ---
---

Mega D-Ring Shackles


Our Mega D-Ring Shackles are for large vehicle recovery. U.S. and import - all sizes.
.


Mega Recovery Straps


For recovery above & beyond your standard off-road recovery. Our 4" & 6" Mega straps are used by fire depts & the armed forces.
---
---
Disclaimer. Please read: The effectiveness of this equipment is directly related to the manner in which it is installed, used, and/or maintained. Proper installation, use and maintenance is solely the responsibility of the installer/user, and will not be assumed by OKoffroad.com.
---
---