Recovery Gear at OKoffroad.com
Stainless Steel D-Ring Shackles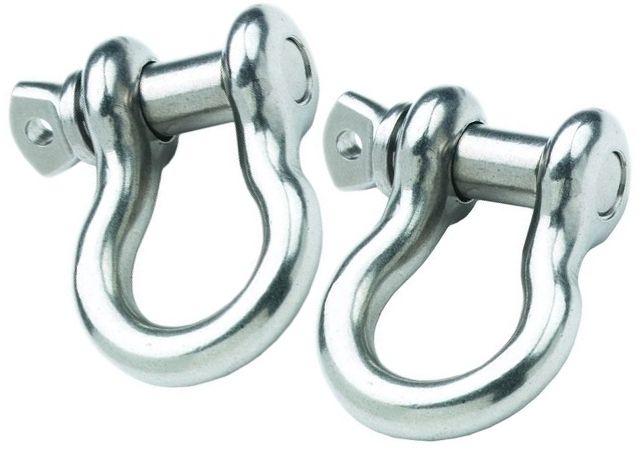 (click image for large view)



The D-Ring Shackle is used for so many recovery situations. It is a must to have a set of quality d-ring shackles with adequate load rating, when venturing offroad. And there's nothing wrong with having them look good too!



AISI Grade 316 stainless.


Working Load stamped on shackle.

American Iron and Steel Institute
AISI 304: The most commonly specified austenitic (chromium-nickel stainless class) stainless steel, which accounts for more than half of the stainless steel produced in the world. This grade withstands ordinary corrosion, is durable and resists most chemicals.
AISI 316: Austenitic (chromium-nickel stainless class) stainless steel containing 2%-3% molybdenum. The inclusion of molybdenum gives 316 greater resistance to various forms of deterioration.



3/4" Shackle (AISI 304/316)
4 Ton Working Load
44,000 lb Ultimate Strength
7/8" Pin Diameter
U.S. SHIPMENTS - LOWER 48

4x4 D-Ring Shackles
Our screw pin anchor shackles meet the high performance requirements of Federal Specification. U.S. and import - all sizes.


Old Glory Shackles


Quality Patriot Red, White & Old Glory Blue powdercoated finish. Get the set of three.





Re-Sellers Welcome


We are exclusive distributors for many of our listed products. We offer volume discounts, or drop-ship set-ups to retailers of 4x4 accessories and recovery gear.

Disclaimer. Please read: The effectiveness of this equipment is directly related to the manner in which it is installed, used (for off-road use only), and/or maintained. Proper installation, use and maintenance is solely the responsibility of the installer/user, and will not be assumed by OKoffroad.com.