Recovery Gear at OKoffroad.com
Definition: kinetic energy - The energy possessed by a system or object as a result of its motion. The kinetic energy of objects with mass is dependent upon the velocity and mass of the object, and is equal to the product of half the mass times the square of the speed.
MONSTER Recovery Rope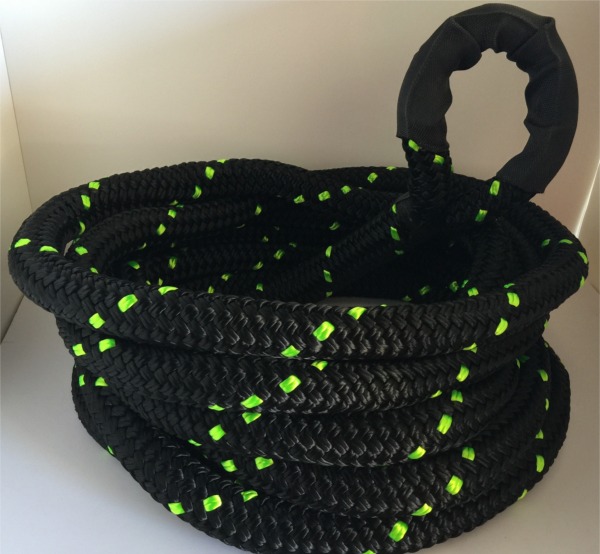 click image for large view)



The Monster Recovery Rope is designed for recovery above and beyond your standard off-road recovery. This kinetic energy recovery rope is probably the most technically advanced recovery tool in the off-road world. Using the principles of kinetic energy for maximum effect, this kinetic recovery rope will stretch and safely pull a large vehicle to safety.

For extreme-duty tugging and snatching of stuck vehicles in mud, snow, or sand. Monster Recovery ropes are not your average tow rope. Monster ropes are engineered for mega-duty applications and are of the highest U.S. quality.



1-1/4" & 1-1/2" diameter x 30'.


59,000 lb. & 78,000 lb. strength.


Chafe guarded loops for improved abrasion resistance.


High Strength & High stretch Nylon/Composite Rope..


Made from nylon & polyester Double Braid.


Professionally spliced and lock-stitched.


Polymer Coating protects against sand, mud, grime.


Lime green tracer line for improved visibility.


Made in the U.S.
U.S. SHIPMENTS (CONTINENTAL U.S.)






Re-Sellers Welcome


We are exclusive distributors for many of our listed products. We offer volume discounts, or drop-ship set-ups to retailers of 4x4 accessories and recovery gear.


---
---
Disclaimer. Please read: The effectiveness of this equipment is directly related to the manner in which it is installed, used (for off-road use only), and/or maintained. Proper installation, use and maintenance is solely the responsibility of the installer/user, and will not be assumed by OKoffroad.com.
---
---

WARNING: Kinetic ropes can be very dangerous if used incorrectly, both to people or property. Because of the more than 20% stretch of a kinetic rope, the forces created with momentum can easily overcome the breaking limits of anchoring points, connectors (D-shackles), or the kinetic rope. The elasticity of the kinetic rope can create a slingshot effect, which can cause serious damage or injury to people. The manufacturer of these kinetic ropes can not be held responsible for any damage or injury caused.

Basic Principles to keep in mind when using a kinetic rope.
• The first rule is not to expose you or your vehicle to any harm by getting stuck.
• The recovery vehicle must be of similar weight to the stuck vehicle.
• Only use anchoring points on vehicle that are connected directly to the chassis and are rated by the manufacturer.
• Only use correct size rated connectors (D-shackles).
• Never use a kinetic rope on a winch or as a winch cable extension.
• Never tie knots in a kinetic rope when connecting it to a vehicle.
• Never use a damaged kinetic rope.
• Never combine or extend this rope with other ropes, webbings, chains or cables.
• Beware of bystanders in the radius of the length of the rope.
• Keep the rope clean and free from sand or grit.
---
---
---
.
.