.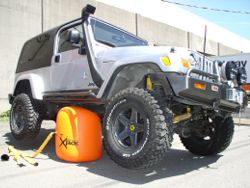 (click image for large view)

4,400 lb. lifting capacity.


Lifts up to 30" above the ground.


15' 8" hose length. 4" ID cone.


Side curtains for puncture prevention.


Unique triangular feet for better grip.


Can be used with onboard air.


Collapses flat for easy storage.


Closed dimensions: 36" dia. x 4" tall.


Weight: 25lbs.


Heavy-duty storage bag and gloves.


Protective mat included.


Puncture repair kit, two filler tubes.


Laminated operating instructions.


Requires 2" clearance under


vehicle to operate.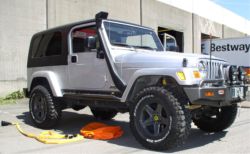 (click image for large view)
.
Bushranger X-JACK - Exhaust Operated Jack
---
Bushranger's new X Jack features a triple layer lifting surface and a hard core insert to ensure better durability and greater stability for raising vehicles on unstable surfaces such as sand, mud and loose gravel.

The two-way inflation system uses either the exhaust or a portable air compressor which provides added control in determining, rate and extent of lift. The easy to use inflation/deflation system keeps you at a safe distance from the vehicle during operation.

The hose length of the X-Jack is 15' 8" in total length. The cone has a 4" ID, so it will work with a 3" exhaust.

Note: The Bushranger X-Jack is not designed to change tires on a vehicle.
.
---
.

U.S. SHIPMENTS (CONTINENTAL U.S. ONLY)

Bushranger X-Jack
Shipping
.
$259.95
$29.00 *
.

---

* Includes sales tax for shipments within Oklahoma

---


(click image for large view)


Note: This off-road recovery tool is used for vehicle extraction in soft terrain such as sand, snow, or mud. Never use this product for vehicle maintenance or wheel changing. Never get under a vehicle supported by the X-Jack.
.
.