Recovery Gear at OKoffroad.com
Grade 70 Recovery Chain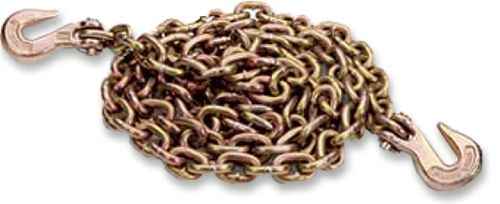 (click image for large view)


As well as for vehicle recovery, the recovery chain is used to drag fallen trees and logs off 4WD trails. The chain is particularly useful for securing a winch anchor point in rocky areas where a nylon tree strap is not suitable. Our recovery chains are made from Boron treated steel which provides a high strength to weight ratio. It is superior for use in towing, recovery and safety chains.

Every 4WD owner should carry a recovery chain in heavy conditions. They will last a lifetime and have absolutely unlimited uses.



Plated to prevent rust.


Two (2) chain hooks per chain.


5/16" x 20' recovery chain with hooks.


3/8" x 20' recovery chain with hooks.


5/16" x 10' recovery chain with hooks.


3/8" x 10' recovery chain with hooks.



3/8" Chain
6,600 lb Working Load Limit
26,400 lb Ultimate Strength

5/16" Chain
4,700 lb Working Load Limit
18,800 lb Ultimate Strength
U.S. SHIPMENTS - LOWER 48





Don't just throw that recovery chain in the back! Store it carefully in our handy kit bag, and it will be there for you when you need it. Holds your D-shackles too.



15" wide-mouth Gear Bag,


heavy-duty nylon zipper, outer


pockets, and hard fiber floor.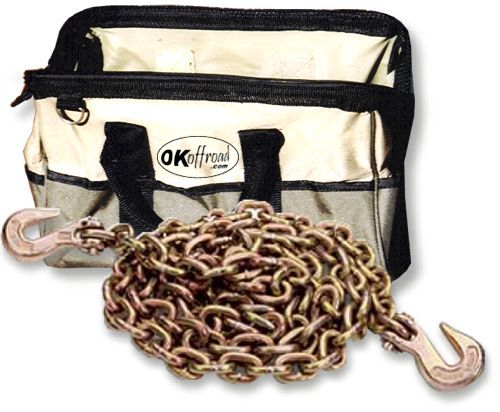 (click image for large view)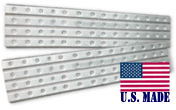 Aluminum Sand Ladders
The real thing! Aluminum pierced plating. For vehicle recovery from mud, snow, sand and most types of soft terrain.


Waffle Boards


Light enough to carry and handle, yet still provide the maximum in strength and durability.





Re-Sellers Welcome


We are exclusive distributors for many of our listed products. We offer volume discounts, or drop-ship set-ups to retailers of 4x4 accessories and recovery gear.

Disclaimer. Please read: The effectiveness of this equipment is directly related to the manner in which it is installed, used (for off-road use only), and/or maintained. Proper installation, use and maintenance is solely the responsibility of the installer/user, and will not be assumed by OKoffroad.com.