Recovery Gear at OKoffroad.com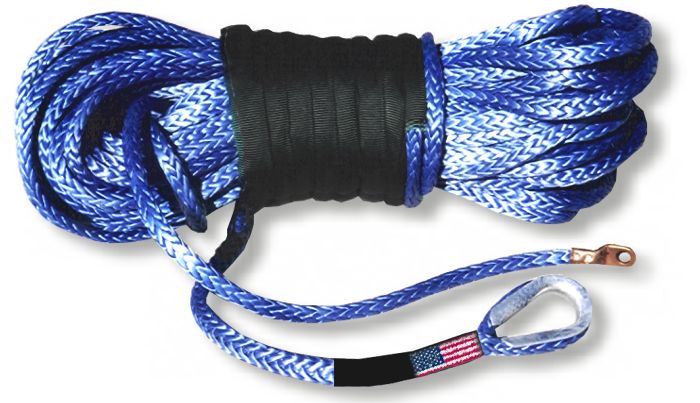 (click image for large view)
Amsteel Blue Winchrope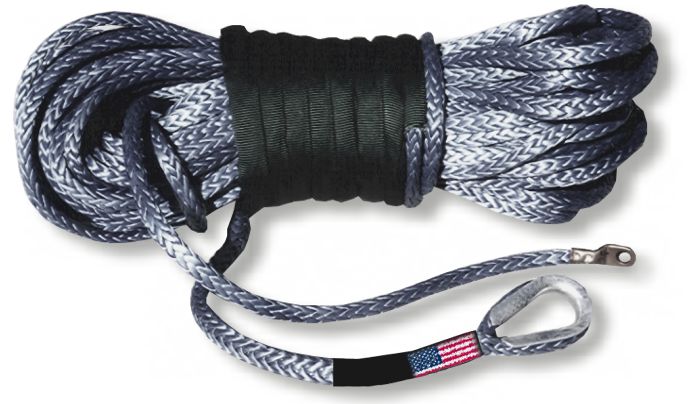 (click images for large view)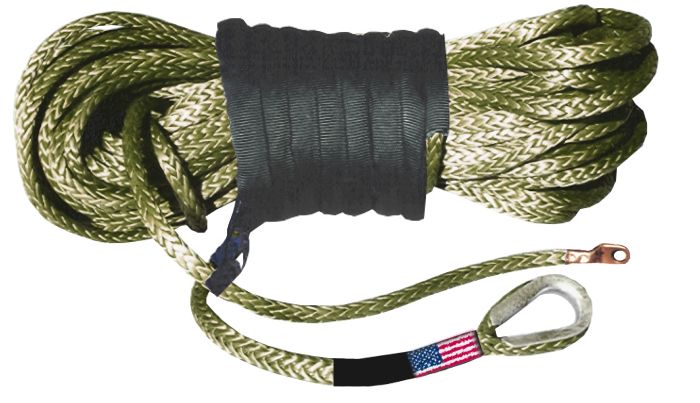 AmSteel Blue is the latest development of HMPE fiber in a twelve-strand braided rope utilizing Parallay design with proprietary blue urethane coating. Synthetic winch rope was introduced to the off-road vehicle markets in the 1990's. It has rapidly become a must-have accessory for both hard-core rockcrawlers and off-road enthusiasts.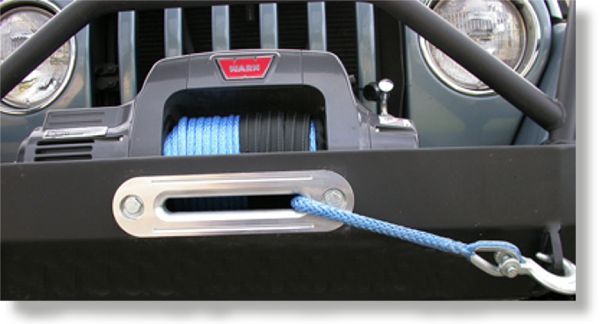 (click image for large view)
| | |
| --- | --- |
| | Our U.S. made Amsteel Blue winch rope was recently listed in Petersen's 4 Wheel & Offroad magazine as the strongest winch cable replacement rope on the market. |

Rule Book - "Winches must use rope (non-metal) with minimum burst strength of nine thousand five hundred (9,500) pounds."

U.S. Made Amsteel Blue synthetic fiber rope has a higher breaking strength than that of steel cable of the same diameter, and remarkably weighs less than 1/6. It won't get all wound-up like cable when unspooled. It can't develop sharp frays, and it doesn't conduct electricity or heat (won't freeze your hands in winter). It won't rust, doesn't kink, doesn't recoil, doesn't stretch, or doesn't store energy. Need we say more!



Colors: Signature Military OD Green, Black, Red or original Blue.


UV protection coated.


Lock-stitched Class II splicing, with heat-shrink.


10' abrasion guard included. The guard is flexible and compact enough to wind in with the rope. Comes right back out when you unspool. Move the guard along the length of the rope to guard against rock outcrops, etc. when winching.


We recommend one of our larger than stock winch hooks - Self-Locking, Mega, Big Red, or Yellow (as the loop of the rope nestles in a heavy-duty thimble, the clevis opening on your stock hook will probably be too narrow to fit it).


We also highly recommend our aluminum Hawse fairlead (HD or SL), specifically designed for synthetic winch rope use (see below). Do not use a roller fairlead to guide your winch rope. It's simple - have the right equipment, so everything works as designed.


(click image for large view)



Heavy-duty rope thimble with Class II locking eye splice, and heat-shrink cover.
Note: Our ropes are professionally spliced and crimped with extra-large terminal end, with rope heat-shrunk prior to being glued and crimped into the terminal.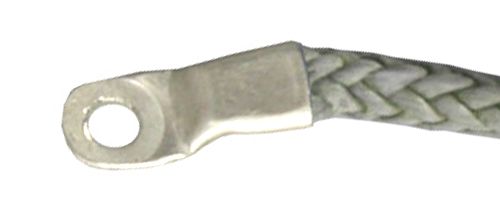 (click image for large view)



Note: The terminal end (drum connector) prevents the rope from unraveling. It is not a load-bearing tie-down. The terminal end is professionally glued and crimped, and is designed to withstand a certain amount of pull. Improper installation of the rope, or spooling out to the last layer of drum, causing a full load pull to be exerted on the terminal end, however, will cause the terminal end to release the rope, as it is designed to do. This set-up prevents the winch set screw from pulling out of the drum.

We strongly recommend upgrading to a billet aluminum Hawse fairlead to prevent pinching or other damage from a steel roller fairlead. See aluminum fairlead selections below.

Note: As with cable, we recommend keeping a minimum of 8 wraps of synthetic line on the winch drum at all times.



5/16" Amsteel Blue Winchrope - 13,700lb strength




3/8" Amsteel Blue Winchrope - 19,600lb strength


Compare to 5/16" wire cable with 9,800lb strength, and 3/8" wire cable at 14,400lb strength.
U.S. SHIPMENTS - LOWER 48
---
---
Installation & Tech Info
CLICK HERE
STILL RUNNING CABLE?
CLICK HERE FOR CABLE REPLACEMENT
---
---




Customer Service


"Well everything went well with the installation of the winch rope. Its sooo much lighter than the steel wire I took off! The front has heavy duty OME springs to cater for the weight of the bumper and winch and since removing the wire it just went up another 1 cm, which is good for approach angle!"

Angus McGuckian,
Australia
---
We got a call from a customer who had kinked his winch cable badly...

"...Where else can you place an order while on Hell's Revenge, at 6pm, and have it at your door step, in Moab, the next afternoon? I was in a bind, and OKOffroad came through for me. Thanks again for the fantastic service."

David Summers
Midland, TX
---
"My old 3/8" x 100' cable weighs almost 25 lbs. My roller fairlead is 10 lbs. I replaced them with your 3/8" x 100' rope (4 lbs), and your aluminum fairlead (2 lbs). I can't believe I was carrying around 35 lbs up front vs. 6 lbs now."

Alex Singleton,
Redondo Beach, CA
---
"The rope arrived today, installation couldn't have been easier. I'm looking forward to using it, Thanks."

James Welch,
New York, NY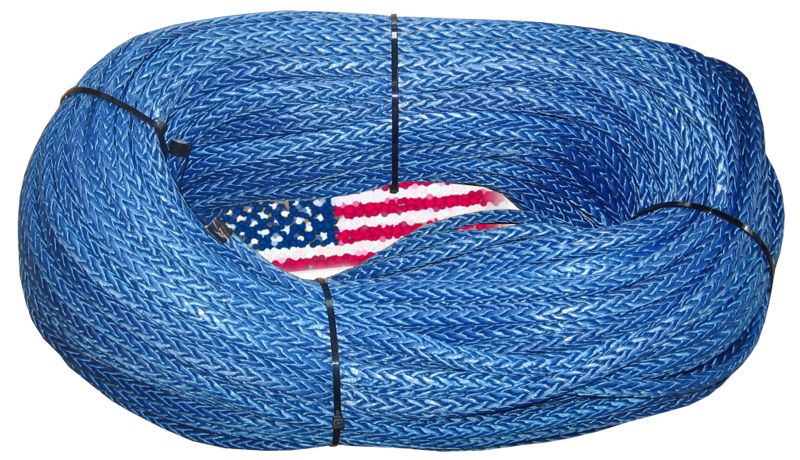 synthetic rope by-the-foot
Need a custom length winch rope, or synthetic rope by-the-foot to build your own winchrope?

Or just not sure of the correct winch rope for your application...pick up the phone, or email us!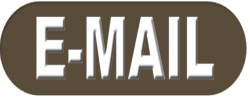 ---
---
Synthetic Winch Rope Extension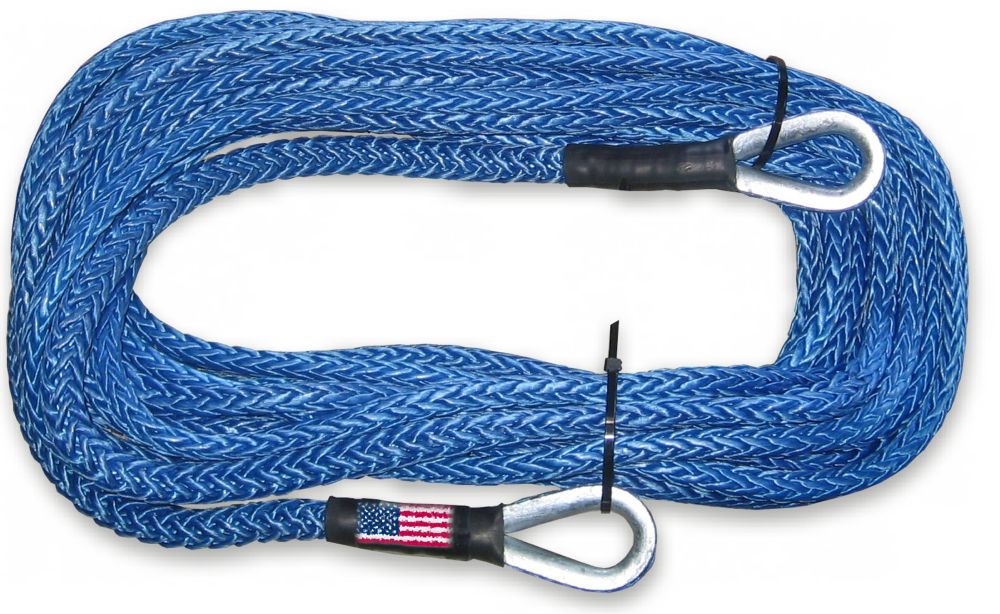 (click image for large view)


Also made from Amsteel Blue synthetic fiber rope, our extension lines have both ends looped with a heavy-duty thimble. Stores easily in your kit box until needed. This is a wonderful security blanket for anyone venturing offroad anywhere.


Heavy-duty rope thimbles.

Don't get stuck too far from a good anchor point! Our winch rope extension adds fifty feet to your winch line, and brings you nearer to that well-placed tree.



Weighs less than 1/4 of steel cable.


Won't unravel in storage.


Can't develop sharp frays.


Doesn't recoil.


Won't rust.


Doesn't kink


Doesn't stretch.


Doesn't store energy.


Doesn't stretch.

Note: Our ropes are professionally spliced.



5/16" Amsteel Blue Winchrope - 13,700lb strength




3/8" Amsteel Blue Winchrope - 19,600lb strength


Compare to 5/16" wire cable with 9,800lb strength, and 3/8" wire cable at 14,400lb strength.
U.S. SHIPMENTS - LOWER 48
Winch Rope Extension & Kit Bag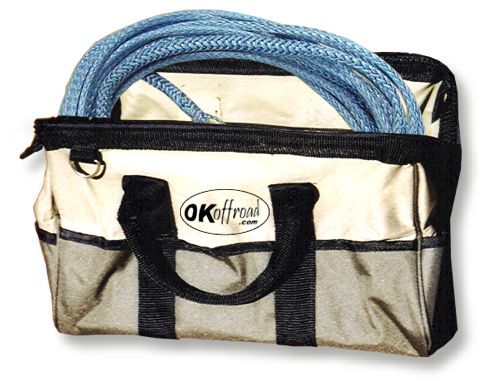 (click image for large view)



Protect your Amsteel Blue synthetic fiber winch rope extension by storing it in our handy kit bag.
Holds your recovery straps too. Don't just throw that winch rope extension into the back! Store it carefully, and it will be there for you when you need it.


U.S. SHIPMENTS - LOWER 48





Customer Service


"...very impressed with my rope…pulled my approx 3000kg fully laden GQ Patrol (6,750 lbs) over a crest of a sand hill…the winch was working hard and the rope never failed…awesome."

Cheers for now
Matt Hancock
Adelaide, South Australia


Winch Line Saver


Just spool in the rope right up to the fairlead protecting your aluminum Hawse fairlead against abrasion from steel hooks.
.


HD Aluminum Fairlead


Weighing-in at 2.5 lbs, only a fraction of a steel hawse or roller fairlead, our T6 billet aluminum Hawse fairleads are designed specifically for winches running synthetic winch rope.

Winch Hooks


The self-locking winch hook is the ultimate solution in winching equipment. For the serious recovery specialist.
.


Winchrope Retainer


A simple device which makes the installation of winchrope on a winch drum totally idiotproof. 4x4 & UTV/ATV applications.




Re-Sellers Welcome


We are exclusive distributors for many of our listed products. We offer volume discounts, or drop-ship set-ups to retailers of 4x4 accessories and recovery gear.
Disclaimer. Please read: The effectiveness of this equipment is directly related to the manner in which it is installed, used, and/or maintained. Proper installation, use and maintenance is solely the responsibility of the installer/user, and will not be assumed by OKoffroad.com.